Exterior Window Cleaning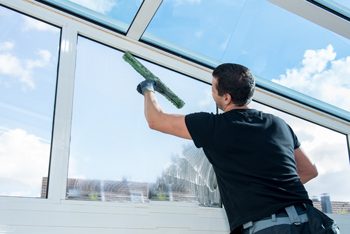 Cleaning your windows on the outside is an important part of your home maintenance routine, but it is difficult, dangerous work. Windows at ground level aren't so much of a problem, but trying to clean those on upper floors can put you in peril. That's why it makes sense to leave your window cleaning needs to the professionals at Renewal Guys. We serve customers throughout Harrisburg, PA, and surrounding areas, and we focus on providing excellent customer service to all our clients.
There are many benefits to having professional window washing done. A good window cleaning keeps your windows in good shape, which can make them last longer and protect your investment. Clean windows also make your home's exterior look nicer, improving your home's curb appeal. And in addition to keeping you safe, having your windows cleaned by a professional saves you time and energy.
Renewal Guys employs only the most professional and experienced window cleaners, so you can feel confident you will get quality work. We also use only the safest and most superior equipment and cleaning solutions to ensure you get a quality clean.
Make professional window washing part of your home maintenance routine and call Renewal Guys. We serve customers in Harrisburg, PA, and surrounding areas, and excellent customer service is our No. 1 priority